Cool weather and sunny skies escorted the public into the Sheraton Raleigh Hotel for TeenFestival 2K15 the 11th annual public health "edu-tainment" event focused on substance abuse prevention and violence reduction. The free, family-friendly event began at 10 a.m. on May 2 with co-occurring workshops for teens, adults and elementary age youth; the workshops were facilitated by statewide topic-experts with more than 25 combined years of experience. The workshops were interactive and well-attended.
The Resource Area featured display tables showcasing information, products and services offered by local agencies that support the TeenFest themes. Event attendees spoke with enthusiastic and knowledgeable agency representatives who provided insight on topics ranging from education to healthy behaviors, and from finances to opportunities for positive teen experiences.
The afternoon began with the teen talent showcase of original performance art with anti-drug or anti-violence themes. This year's event stood out as a real battle of the best – featuring three powerhouse contestants and numerous TeenFestival All-Star winners from previous years. Gracing the mic with a heartfelt spoken word piece paying homage to Eric Garner, William Manneh took first place prize and earned comparison to renowned poet and novelist Amiri Baraka. Second place was won by Martika Brooks rocked the audience with spoken word and "true hip-hop reminiscent of MC Lyte," with a piece chronicling the downfall of "Beth who was plagued by meth." And with a "powerful instrument" that won the audience over, singer Zaire Ariana placed third with her original piece on bullying.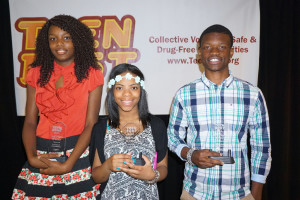 Returning to the TeenFest stage to make 2K15 an All-Star-studded event were dancer Karol Turner, rapper Damarcus Harris, dancer Anthony Whitaker, and spoken word artist Jared Caldwell. Also making a special All-Star appearance were the original four-members of positive rap group Leviticus: Tim Caldwell, Joe Ragland, Ashton Howard and Jared Caldwell.
The judges' panel boasted its own star-power, including nationally acclaimed southern soul singer Rissi Palmer who treated the audience to a performance of Sweet Sweer Lovin', the single from her new EP, Back Porch Sessions. Also on the judges' panel was TeenFest alumni and rapper/singer Matthew Grady, front man of rockin' rap group M-16 and the Full Moon Wolves, currently on tour for their new CD, Outlaw. Other judges were renowned spoken word artist Petrina "Trin-A-Thoughtz" Bryant; talent scout, musician, educator and journalist Brett Chambers; Atlanta-based community activist, author, educator and founder of From Afros to Shelltoes Ed Garnes Jr.; and Capital City Hope Foundation founder Crystal Bodie-Smith.
Shena J, radio personality and founder of Shena Shares nonprofit, emceed the event with TeenFest Foundation founder Donna-maria Harris.
DJ Travis Gales kept event flowing with hot music and 30-second dance breaks, and Greensboro-based Aycock Middle School Marching Pride of Excellence Drum line and Dance Team (DDT) opened the afternoon portion with drums, cymbals, high kicks and flips.
Click Here to See Photos from This Year's Events
TeenFest 2K15 Celebrity Judges
| | | |
| --- | --- | --- |
| Rissi Palmer | | |
| Edward Garnes, Jr. | | |