What is TeenFestival?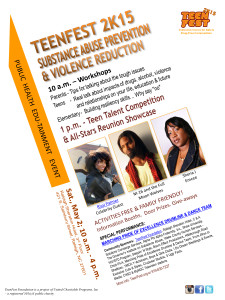 TeenFest 2K15 is the 11th anniversary of TeenFestival, the annual public health "edu-tainment" event focused on substance abuse prevention and violence reduction. The day's activities begin with workshops on information relevant to the event's themes. The second part of the event is a teen talent showcase/contest with a twist; all acts must be original and must have an anti-drug or anti- violence theme. Contestants are students ages 14 – 19. First, second and third place winners are awarded cash prizes, video shoots and additional performance opportunities. A live DJ, door prizes, audience participation and a panel of celebrity judges help lend to the festive atmosphere. The event also includes a Resource Area of local agencies offering information and services. All activities are free and family friendly.
More About the Workshops:
Workshops are divided into sessions for teens,
elementary-age students and parents; they focus on strategies for reducing drug use and involvement in violence. Workshops are facilitated by adult experts who are charged with making information applicable to students' school, social and home lives, and include information on how resiliency skills can positively impact academic performance. Past presenting agencies have included: Wake TRU Youth Council, Governor's Institute on Alcohol,
Youth Thrive, Men of Strength, Wake County 4-H and others.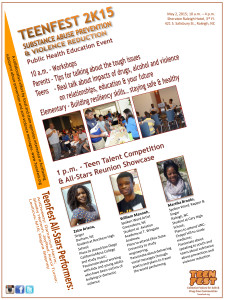 How Does the Talent Portion Work?
Two auditions are held prior to the event; one in Wake County and one in Durham County. Auditions are free. A panel of teen and adult judges scores the acts based on specific criteria; top-scoring acts are invited to compete at TeenFestival for prize money.
More About the Teen Showcase Competition:
Students ages 14 – 19 create an original piece of performance art that effectively communicates an anti-underage smoking, -drinking, -substance abuse, or -violence message. There can be no profanity, lewd gestures or provocative clothing. The top acts are invited to compete. All contestants must sign a code of conduct. Contests under age 18 must have guardian consent.
When/Where is 2K15?
Saturday, May 2, 10 AM to 4 PM, Sheraton Raleigh Hotel, 421 S. Salisbury Street, Raleigh NC 27601.
Click Here for Parking Information
Evaluation Components:
An evaluation tool in the form of a brief survey is distributed to all attendees to gain demographic information and assess the impact of the event and the effectiveness of communications strategies. (2013 results here)
Who is Behind TeenFestival?
TeenFestival is a collaborative effort by local and statewide agencies and nonprofits interested in furthering the substance abuse prevention and anti-violence messages. Local middle school, high school and college students help plan and execute the event; they receive community service hours for their participation.