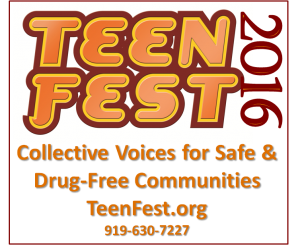 The energy at TeenFest 2K16, held May 7 in Raleigh, was high and the talent was hot. The audience was enthusiastic and hyped to cheer on the teen talent. Celebrity judges included Bowlegged Lou of Grammy Award winning Full Force and Southern Soul singer Rissi Palmer.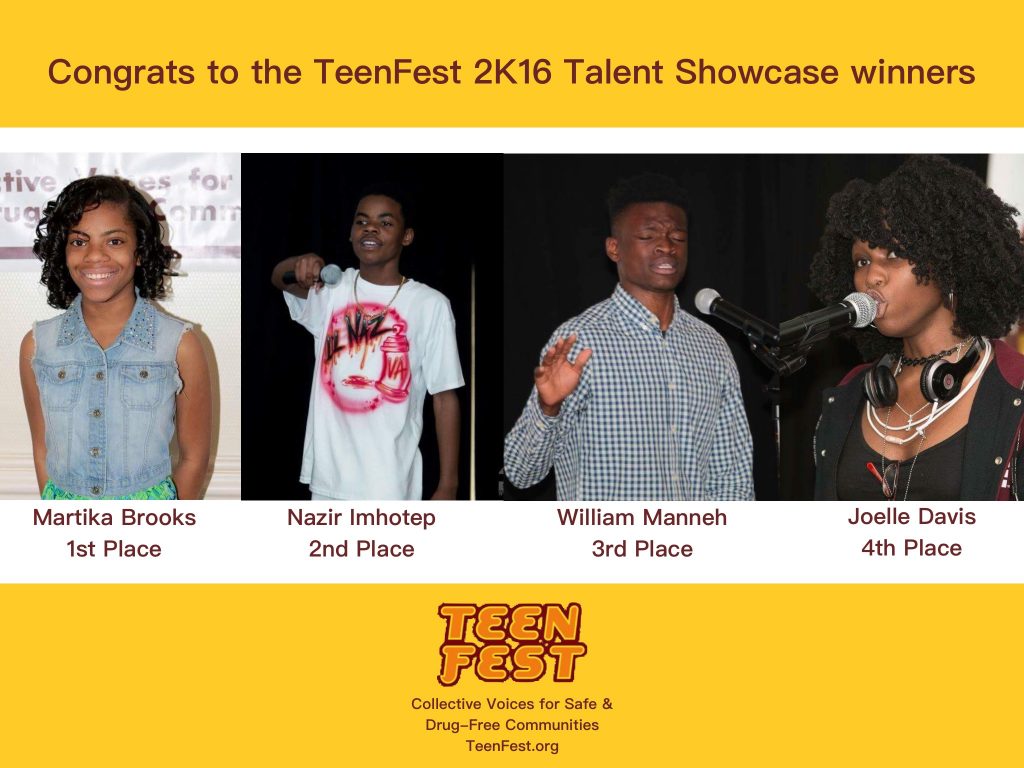 Rapper Martika Brooks of Raleigh won first place; judges likened her style and delivery to hip hop pioneer MC Lyte and praised her performance for being creative and packed with educational content about the harmful effects of drugs.
Rapper Nazir "Lil Naz" Imhotep of Raleigh placed second, blowing judges away with his energetic performance and hot hook that had the audience rockin'. He dedicated his performance to his father, a recent victim of homicide, and vowed to remain drug and violence-free.
William "Poetic Willy" Manneh of Greenboro placed third, awing the judges and audience with his spoken word piece about the lynching death of Emmett Till, delivered in first-person and harkening fear and anguish.  Judges praised his writing, creativity, and acting ability to paint a verbal picture that educated and transported the audience to that defining moment in American history and the emerging Civil Rights Movement.
Poet and spoken word artist Joelle Davis of Fuquay-Varina placed fourth, mesmerizing the audience with a piece that likened bullying to a consuming fire that destroys a town. Judges commended her writing and delivery, encouraging her to continue her craft and to consider a career in journalism.
The other TeenFest Talent Showcase contestants were dancer Tavia Hawley of Durham, dancer Wisdom Muhammad of Winston-Salem and singer Zaire Ariana of Durham.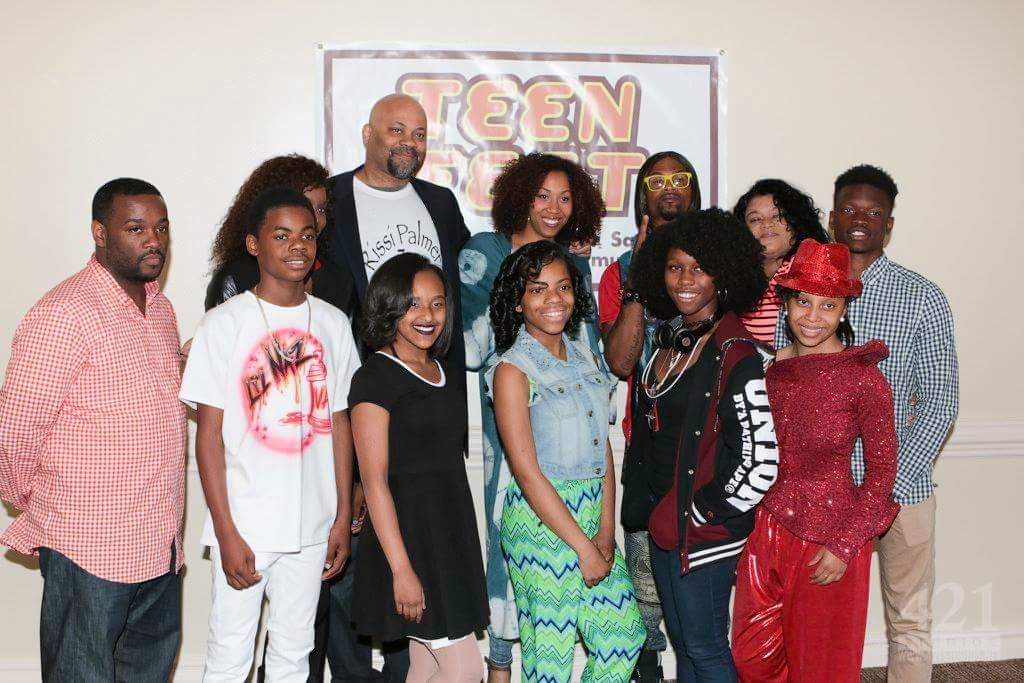 In addition to Bowlegged Lou and Rissi Palmer, the judges panel included community activist, educator and author Ed Garnes Jr.; rapper and musician Matthew Grady of M16 & the Full Moon Wolves; educator, musician and talent scout Brett E. Chambers; and nationally acclaimed spoken word artist Petrina "Trin-A-Thougtz" Bryant.
DJ Travis Gales kept the party hot with music in the breaks; emcees Tim Caldwell and Dia Harris kept the show moving and led audience members in dancing and joining the fun.
Kirby Hamilton Jr. produced the TeenFest 2K16 show open featuring Quality Education Academy students: flautist Kenya Brabham and drummer Rashad Jones. Also featured was the rap/R&B group Organized Chaos (TimMay Rajah and JayRed).
TeenFest 2K16 Agenda: 
10 a.m. – WORKSHOPS – Teens; Adults; Elementary age students. Each workshop is specifically designed for the target audience with interactive discussions on substance abuse prevention, including anti-underage smoking and drinking, and violence reduction. WORKSHOP FACILITATORS: Dr. Rodney Harris; Jafar Cooper; Au'Brie McKoy-Marshall; Shenekia Weeks; Anthony Gardner; Terrasine Gardner.
11:30 a.m. – RESOURCE AREA – Local agencies and businesses that support the TeenFest themes of safe and drug-free communities will be on hand to discuss their  programs and products, share information and provide free give-aways.
1-4 p.m.  TEEN TALENT SHOWCASE COMPETITION – Youth ages 12 – 18 who scored highest during auditions will compete with original acts that have an anti-drug or anti-violence theme. Celebrity judges provide feedback and select 1st, 2nd and 3rd place winners who will be awarded cash prizes, trophies and additional performance opportunities.
Special performances by Organized Chaos, M16 & The Full Moon Wolves, Rissi Palmer and Bowlegged Lou.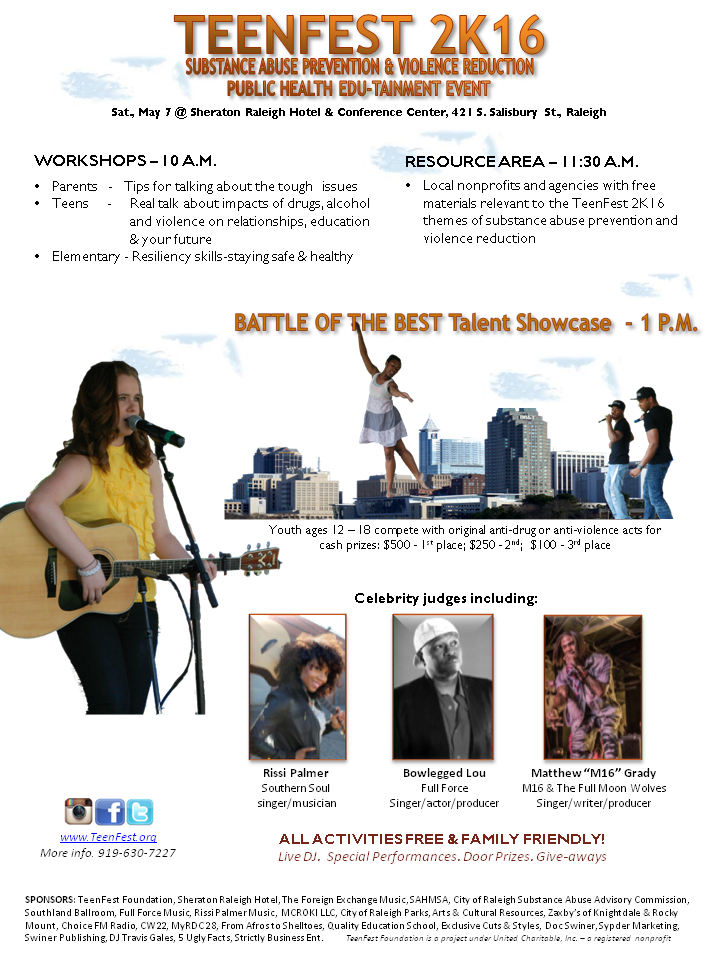 Sponsorship Info.   Agency Display Form
---
SPONSORS
Save